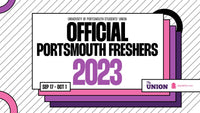 Freshers Packs
Your official freshers pack has landed featuring all of your main student venues - ON SALE NOW!
Includes:
Your Official Moving In Party
City Centre Pub Crawl
UV Rave
ABBA Disco
Plus more!
GET YOUR TICKET HERE
Opening Times
Monday - Friday 9am - 4pm term time
Monday - Friday 9am - 3pm out of term time
💜 STUDENT MUST HAVES 💜
ID Holders

Lanyards
Add a Personal Touch
First add your item of clothing to your cart then click below to add your text! One line of text contains 10 characters!
Click here to add Text!